The chip fuse SF303 of DA Technology has been successfully applied to the over-current protection of the AD sampling port of the electric motorbike
With the decrease in the cost of lithium batteries and the increase in power density, electric motorbike and electric two-wheelers have been popular more and more . One electric motorcycle customer which is using 39 strings of 18650 lithium batteries for power supply. Thus the voltage of its main power supply line is up to 164V. In order to monitor the main circuit , it is necessary to detect and monitor the main line voltage at any time, and feed it back to the AD port of the MCU. The design engineer considers that there is over-current or short-circuit energy on the main circuit, which may damage the AD port. The design needs a very small current (below 80mA),high V(above 165V),SMD fuse . The general 0402 0603 1206 package fuses can't meet the current& voltage requirements. The plug-in package fuse cannot meet the size requirements as well. DA's SF303A.080(80mA@250VAC)chip fuse can meet all the above requirements of customers. After actual testing, the product is in mass production currently.
The following is the position of SF303A.080 in its circuit.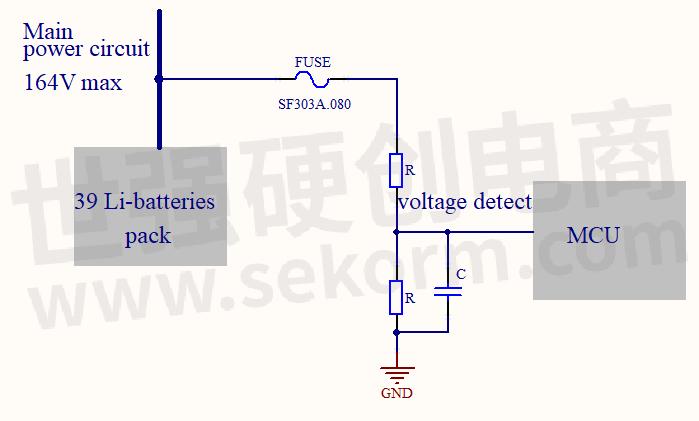 DA launched the small chip 2410 package,ultra small current, 250AC withstand voltage fuse SF303 series, which is widely used in carrier modules, LED drive power, smart sockets, consumer chargers and other applications.
Appearance is as shown below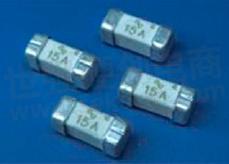 Main characteristics are as follows:
1. Current ranging 0.08-7A
2. Voltage 250VAC, slow blow, breaking capacity 50A
3. UL certified, file number is E500586,2410 package
4. Wide operating temperature range -55℃ ~ +125℃
5. Rohs& halogen-free, silver-plated and gold-plated terminals are optional
Recommend
This document is provided by Sekorm Platform for VIP exclusive service. The copyright is owned by Sekorm. Without authorization, any medias, websites or individual are not allowed to reprint. When authorizing the reprint, the link of www.sekorm.com must be indicated.