Sekorm Became an Authorized Distributor of Littelfuse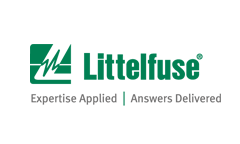 As an outstanding electronic components distributor, Sekorm welcomed a new partner-Littelfuse. Littelfuse is the world's number one company in the field of circuit protection, providing the most extensive and cutting-edge circuit protection products and solution portfolio, including circuit protection devices, fuses, gas discharge tubes, resettable fuses PTC, ESD suppressors, Varistors, reed switches, thyristors, reed switches/sensors, etc. They are widely used in industrial electronics, communication equipment, consumer electronics, automotive electronics and other fields. With the increasing of authorized brands and products, Sekrom will continue offering one-stop R&D service and supply to the customers.
Recommend
This document is provided by Sekorm Platform for VIP exclusive service. The copyright is owned by Sekorm. Without authorization, any medias, websites or individual are not allowed to reprint. When authorizing the reprint, the link of www.sekorm.com must be indicated.